American Heritage Cabinets
These popular cabinets are high quality with a good price point. Customization options are fewer than more expensive cabinets, however the turn around time can't be beat. Feel free to come by our showroom to see and touch these great cabinets.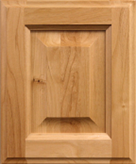 Classic
Knotty Alder
These are a traditional-style cabinet, and the most popular choice for the majority of our customers. Well crafted and very affordable.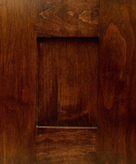 Shaker
Knotty Alder
American Heritage's extremely versatile Shaker Knotty Alder is full of character with rustic knots and rich dark tones. This is a richer-looking Knotty Alder cabinet and is still very affordable. The Kodiak series of American Heritage cabinets has the look and quality of cabinets that cost twice as much.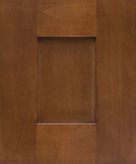 Shaker
Maple
This classic, time-honored design captures the beauty of the 18th century and pays tribute to their fine quality craftsmanship with clean lines, square corners, and a simple yet graceful style. It is considered both contemporary and traditional.
The above styles come in array of stained and painted colors to choose from.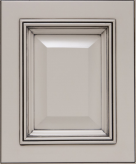 Maple
Winter Haven
A maple cabinet painted white with black glazing accents. This cabinet comes with all the upgrades you would want; fresh and timeless elegance.
Of all the rooms in your home, your kitchen is likely the most trafficked. Not to mention, it is also where you and your family congregate after a busy day to get on the same page and share stories about the day. Therefore, it is important to create an atmosphere conducive toward conversation and comfort. When you make the decision to either renovate or add aesthetic touches to increase the aura of your kitchen, considering American Heritage cabinets is a choice that can save you money.
Quality is the Key
While we take pride in our affordable prices, we do not compromise on quality. Among the benefits you can take advantage of with our cabinets include:
Clean and natural finish
Dovetail drawers
Full overlay solid doors and 5 piece raised panel door
State-of-the-art fit and finish with adjustable hinges
Request a Free Design
We want to know everything about your project that will help us design the best possible kitchen or bath.
Convenience in a Busy World
American Heritage cabinets have a lead-time of 1 week from when the order is received and non-stock finishes 2 weeks. Your order can be delivered to your home with a choice of installation options: do-it-yourself; have your contractor; or G&M Stone Tops can do your installation.
Functional Hardware Choices
Tilt Out Tray
Lazy Susan
Mixer Lift
Spice Rack
Tray Divider
Double Waste Holder